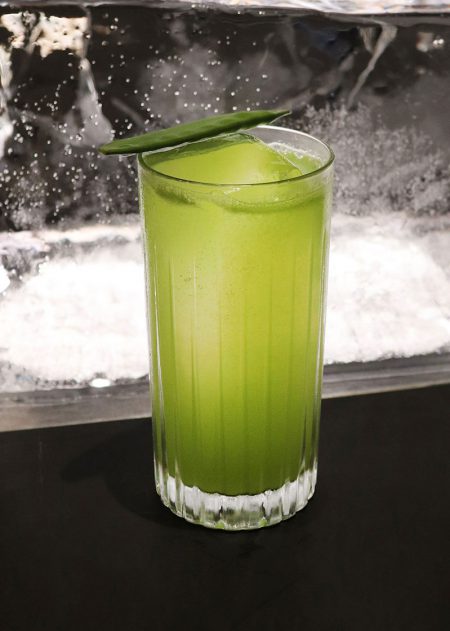 A cocktail inspired by Maresme, the freshness and sweetness of the pea contrasts harmoniously with the aniseed and juniper.
SIPSMITH GIN, PEA SYRUP, STREGA LIQUEUR, LEMON JUICE, ANISEED AND BUBBLES.
LLÀGRIMES DEL MARESME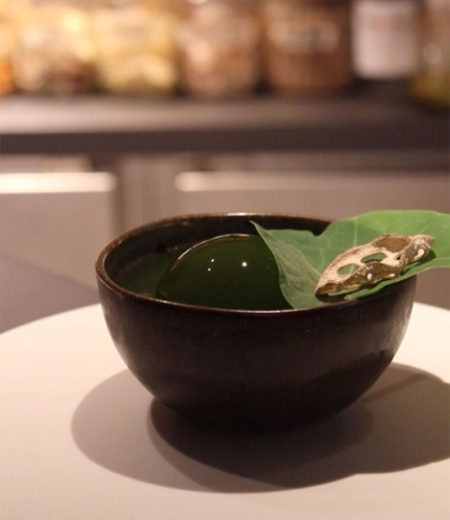 "Omakase" is the word used in Japan when you let the host of a bar or restaurant serve you what he or she thinks you will enjoy the most in that moment.
SIPSMITH GIN, KUMQUAT AND SHISO CORDIAL, LEMON JUICE AND MATCHA GREEN TEA.
OMAKASE
The freshness and lightness of a salad in a cocktail.
SIPSMITH GIN, SUGAR SYRUP, LEMON JUICE, GREEN APPLE JUICE, CELERY JUICE, EGG WHITE AND WALNUT BITTERS.
WALDORF FIZZ
Citrussy cocktail with dry and spiced aromas, thanks to the turmeric and the chamomile from the sherry. Ultimately, an elegant cocktail.
SIPSMITH GIN PRESSURISED WITH TURMERIC, MANZANILLA PAPIRUSA SHERRY, SUGAR SYRUP, LEMON JUICE AND MANDARINE NAPOLÉON.
THE CLASH
MEZCAL AMORES, APEROL, ST. GERMAIN, AGAVE, PASSION FRUIT AND LIME JUICE.
CATRINA
GIN PLYMOUTH, MINT LEAVES, PANDAN LEAVES, KAFFIR LEAVES, LIME JUICE AND HONEY.
KUNG-FU PANDAN
BANANA RUM, VANILLA SYRUP, GREEN APPLE, CURRY AND LEMON JUICE.
PREETSON
VODKA, CALAMANSI LIME, GREEN LIME JUICE, BLACK LEMON, EGG WHITE, HONEY AND ABSINTH TOUCH.
ANOTHER LEMON TREE
A cocktail that plays with mezcal and that has a smoky but natural touch.
MEZCAL AMORES, RED CAPSICUM, CORIANDER, AGAVE, LIME JUICE AND WORM SALT.
BURNT PEPPERS
GIN SIPSMITH, MANZANILLA, LEMON JUICE, PERRINS, CLASSIC TABASCO, CHIPOTLE TABASCO, HOME-MADE CELERY SALT, BLACK PEPPER AND TOMATO JUICE.
RED SNAPPER
The Barcelona Impur menu aims to reflect our gastronomic roots. We wish to show the flavours and aromas that represent our homeland, yet without limiting ourselves, as we also want to wake up the senses with cocktails made from internationally sourced ingredients. That is why you will find ingredients typical of Catalonia and the Mediterranean, but also international ingredients.
We have divided the menu into three sections:
In the first section you will find ten original cocktails playing with unusual flavours and combinations from various corners of the world.
In the second section, we compile ten of our classics, the most popular cocktails amongst our friends.
Finally, in the third section, we showcase those classical cocktails that, despite being classics are still widely unknown. As we say in the menu, a tribute to Old Forgotten Classics.